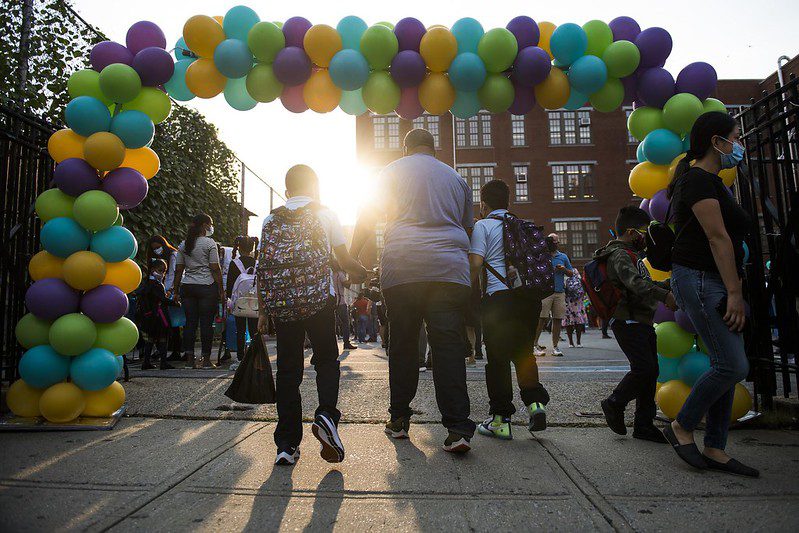 Two non-profit organizations I led later closed down, for very different reasons. One, the September 11th Fund, closed in 2004, having allocated all its funds and determining that many other organizations were in place to continue to provide funding and services to victims of 9/11. This was the right, though difficult thing to do, and it probably should happen more often.
But sometimes a non-profit is forced to close despite the fact that it is doing unique, valuable, impactful work. This is what happened to another organization I led, Learning Leaders, which shut down five years ago this month.
The oldest, largest public school parent volunteer organization in the country, it was tragic that it had to cease operating because it couldn't come up with the support needed to sustain its work. Now more than ever we need parents in the schools helping kids catch up on reading, math, and social-emotional skills after the long, stressful time spent out of the classroom due to COVID-19. The new Mayor and Schools Chancellor should take the lead in bringing Learning Leaders back to our schools as quickly as possible.
Founded in 1956 as the NYC School Volunteer Program, Learning Leaders grew steadily from a small core of stay-at-home moms in Manhattan into a city-wide corps of trained parents volunteering to work with students on their academic skills with the full support and cooperation of the city's principals and teachers.
At its highest point, there were approximately 15,000 Learning Leaders volunteers, the vast majority of whom were parents volunteering in their own kids' schools, in all boroughs, across all income levels and ethnic groups.
I was the Executive Director of Learning Leaders from 1998-2002 (I initiated the change of name to more adequately reflect the role – and deserved pride – of the parent volunteers). Before I left for the September 11th Fund, we contracted with a respected research organization, Arete Corporation, to evaluate the impact of Learning Leaders on the schools in which it worked and on the academic performance of the volunteers' own kids.
The research went far beyond the anecdotal and subjective; it included a telephone survey of a random sample of 2,000+ parent volunteers as well as the academic records (provided with Department of Education and parental consent) of 7,000+ children of volunteers and a similar sized blind sample of records of other children in the same schools. The conclusions of its report, "Parent Volunteers Make the Difference" were unequivocal:
"The overwhelming conclusion… is that the Learning Leaders approach "works." It is a major factor in bringing about positive change in parental behaviors, student performance and the quality of school environments. It has demonstrable impact on higher student academic performance, a more orderly school atmosphere…., and better parent-teacher communication…It is not simply volunteering itself but, more specifically, volunteering as Learning Leaders that leads to these benefits to public schools, parents and their children."
The Arete report documents a number of benefits of the Learning Leaders program including more time spent by parents on homework and reading with their children, better school attendance and scores in reading and math, and lower suspension rates in schools with large corps of parent volunteers.
Learning Leaders was a win for everyone – students, schools, parents. Roughly 95% of the parents surveyed said they were very positive about their experience; 4% said somewhat positive. There was not a single negative response. Many parent volunteers were motivated to continue their own education and/or become employees in the schools. This was not a pilot program; almost 300,000 students were engaged each year. Why on earth would such a popular and vital program be allowed to close down?
The answer is a combination of factors. It was difficult to recruit new board members and other individual supporters willing to make significant financial commitments to local public education. Foundations, which had been generous and important supporters of LL eventually moved on to other priorities. The de Blasio administration, for reasons I do not completely understand, did not regard Learning Leaders as a priority and declined to solicit or allocate private funding for it through the Mayor's Fund to Advance New York City or to increase its relatively small ($400,000) allocation from the Department of Education.
So the board reluctantly and sadly decided to terminate operations, use its remaining funds to provide severance to the staff and turn its training materials over to NY Cares in the hopes that it would use them to develop a new school volunteer program. (NY Cares has volunteer programs in a certain schools in the Bronx and Queens but no plan to expand to a city-side effort.)
There can be no disagreement that bringing our public schools back fully and strongly is crucial to the city's recovery and children's future. We need all hands on deck. Parent involvement is often favorably cited but Learning Leaders was far more than a platitude. It was a real force for educational achievement and could be readily expanded even more if given support and encouragement.
Mayor Adams and Chancellor Banks, read the Arete Report and find a way to bring back Learning Leaders! Its entire budget was less than $3 million a year; this level of combined private and public funding can be found if you make it a priority.